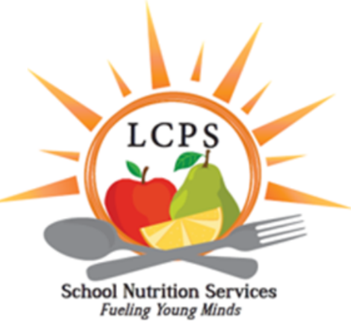 Welcome to LCPS School Nutrition Services
Mission Statement
School Nutrition Services supports the LCPS education mission by providing nourishment to all students while teaching them to make life long healthy choices.
The School Nutrition Program does not receive General Fund Support; the program operates by balancing our budget through meal sales, a la carte sale and State/Federal reimbursement.
Who We Are
Each of our 98 school kitchens is operated by highly-trained staff, with food safety and customer service as highest priorities.
60 Elementary School sites

17 Middle School sites

19 High School sites

2 learning centers
The central office, located in Round Hill, is occupied by friendly office personnel to answer all of your questions, accept payments, and process free/reduced meal applications. School Nutrition operations at the central office are run by our Director, Beth Mills, and a team of knowledgeable school nutrition professionals with expertise in all aspects of childhood nutrition programs.
What We Do
At Loudoun County School Nutrition Services, our team works together to develop nutritious and appetizing meals for our students. Feeding our students for success at school and working alongside parents to develop mindful eating habits is a team effort.
Our menus are prepared each day using the best ingredients including low-fat proteins, whole grain pastas, fresh fruits and vegetables, and hormone-free milk. The menus are analyzed, and recipes adjusted to ensure they meet USDA nutrition guidelines for each age group for calories, sodium, and saturated fat.
Disclosure of Sensitive Information
The restrictions on the disclosure of sensitive information collected through the Child Nutrition Programs have been changed as of May 24, 2019.
Generally, LEAs may disclose individual student information only to those persons, including organizations, specifically authorized by the Richard B. Russell National School Lunch Act (NSLA) to have access to children's eligibility information. The disclosure of individual student eligibility information for purposes other than establishing eligibility for school meals generally is not permitted without parental consent.
The chart below details programs, information that can be disclosed, and the requirement for consent and notice to parents for release of information.
To receive access, please complete the Permission Click that best describes your position within LCPS.
If you are directly associated with a school, you will need to complete the following:
MOU Agreement of Disclosure Free and Reduced Price Meal Eligibility 2023-24 Incoming
For a PDF version of MOU, click here.
| | | |
| --- | --- | --- |
| Recipient of Information | Information that May be Disclosed | Requirement for Consent and Release |
| Programs under the NSLA: National School Lunch Program, School Breakfast Program, Child and Adult Care Food Program, Summer Food Service Program, Food Distribution Program on Indian Reservations, Special Milk Program, Commodity Supplemental Food Program, The Emergency Food Assistance Program, Supplemental Nutrition Assistance Program, and the Special Supplemental Program for Women, Infants, and Children. | All eligibility information | Prior notice and consent not required |
| Federal, state or local means tested nutrition programs with eligibility standards comparable to the NSLP | Name and eligibility status only | Prior notice and consent not required |
| Federal education programs | Name and eligibility status only | Prior notice and consent not required |
| State education program administered by a state agency or LEA | Name and eligibility status only | Prior notice and consent not required |
| Local education programs | No eligibility information unless parental or guardian consent is obtained | Parental or guardian consent |
| Medicaid or Children's Health Insurance Program (CHIP) or Family Access to Medical Insurance Security (FAMIS) administered by a state agency or local agency to identify and enroll children | All eligibility information unless the parent or guardian elect not to have the information disclosed | Must give parents and guardians prior notice and an opportunity to decline to have their information disclosed |
| State health programs other than Medicaid or CHIP (FAMIS), administered by a State agency or LEA | Name and eligibility status only | Prior consent not required |
| Federal health programs other than CHIP or Medicaid | No eligibility information unless parents or guardians elect not to have information disclosed | Parental or guardian consent |
| Local health and education programs (dental programs, athletic/activity fees, instructional fees, free textbooks, etc.) | No eligibility information, unless parental or guardian consent is obtained | Parental or guardian consent |
| Comptroller General for the purposes of audit or administration | All eligibility information | Prior notice and consent not required |
| Federal, State, or local law enforcement officials investigating alleged violations of any programs under the NSLA or other violations of the programs that are authorized to have access to names and eligibility status | All eligibility information | Prior notice and consent not required |